What Next?
Robert writes:
It's no secret that MuseBlog is more leisurely than it used to be. Just for fun, I took our traffic data for 2009 through 2012, pasted it into a spreadsheet, and graphed it to see what story it might tell. Behold the fruits of my labors: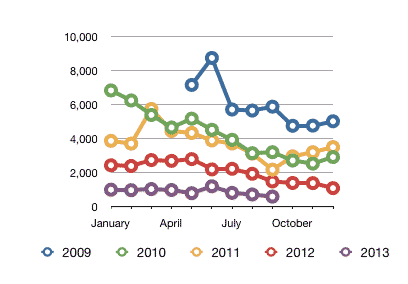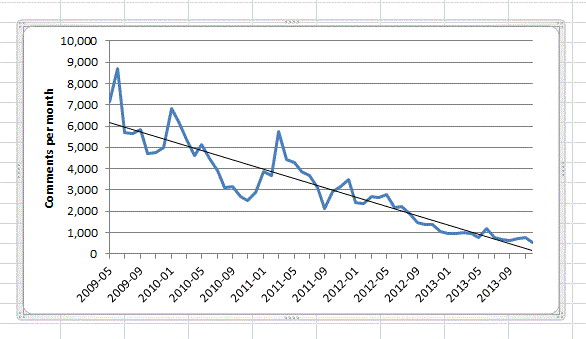 According to the trend line on the second graph, the number of posts here should reach zero any day now. And then what?!
Okay, I don't really expect that to happen. It seems perfectly plausible that the traffic has leveled off and a faithful coterie of MBers will keep posting until Doomsday (whatever form that takes). Those of you who are here now still seem to enjoy and benefit from what the blog has to offer, and old-timers regularly return to report in and sometimes even stay a while. And many of those who have strayed far afield no doubt take comfort in the thought that we're still in business, warping impressionable minds as we once warped theirs. There probably isn't any pressing need to deploy the Omega-13.
And yet, and yet. Watching that sloping line crash into the x-axis does suggest that this might be a good time to contemplate what we are doing here, what else we might be doing, and what other projects and prospects might be worth considering.
Let's start with the easy part: what we're doing. As you all know, MuseBlog is
an online forum
based at www.musefanpage.com,
cloaked from most of the rest of the Internet by anti-searchbot plug-ins and a no-links policy, and thus
known to a select few,
which uses standard (and fairly old-fashioned) blogging software
for unorthodox purposes;
run by four fairly hoary Administrators (yes, we're all still here),
moderated somewhat strictly,
not to mention prudishly,
with an unusual emphasis on thoughtfulness, civility, and good grammar
for purposes of our own amusement, mutual support, and ultimately world domination.
Have I left out anything important? There's Muse, of course, the magazine that brought us all here and remains an enduring inspiration. But few if any MBers currently subscribe to Muse, and the GAPAs no longer write for it now that I've turned over the Q&A column to Lizzie Wade. There's also the MuseBlog Mythos, intricate and wonderful, joyously invented and elaborated over many years. Whenever life hits a rough patch, there's no restorative like a sojourn at Muse Academy followed by a pot of mellow Oolong at the Hare & Hedgepig. On the other hand, would anyone really want to be physically present off the coast of Iceland at this time of year? As for hot-pink bunnies, if they're content to mind their own business, that's A-O.K. with me. (*shudders*)
Looking to the future, then, which of the MuseBlog variables should remain forever fixed and which should we consider, well, varying? Should we go on doing precisely this? Should we go on doing it here? Should we (we MBers, we GAPAs) even be the ones, or the only ones, doing it? And if not, then what should we do, where should we do it, and who should "we" be?
I've been mulling these ideas over for a while now (sort of mildly mulling them over — more thinking about mulling than actually doing it, as often happens). Some of you have mentioned that you've been mulling, too. If we mingle our miscellaneous mullings, who can imagine what magical Muserly machinations might materialize?
Over to you, MuseBloggers…
(Visited 16 times, 1 visits today)
---