Happy Tenth Anniversary, MuseBlog!
I'm sure I'm not alone in saying that MuseBlog has been a hugely positive formative influence on me. But, as I am a scientist at heart, it wasn't enough for me to just say "I'm sure I'm not alone." So I asked some of my friends how they felt about having had MuseBlog in their life for ten years.
Also, I (Dodecahedron) baked an honorary cake with Fern. Julia also baked a cake. Then, with the cake-baking fervor going around, Jadestone made some cupcakes. Pics below the fold.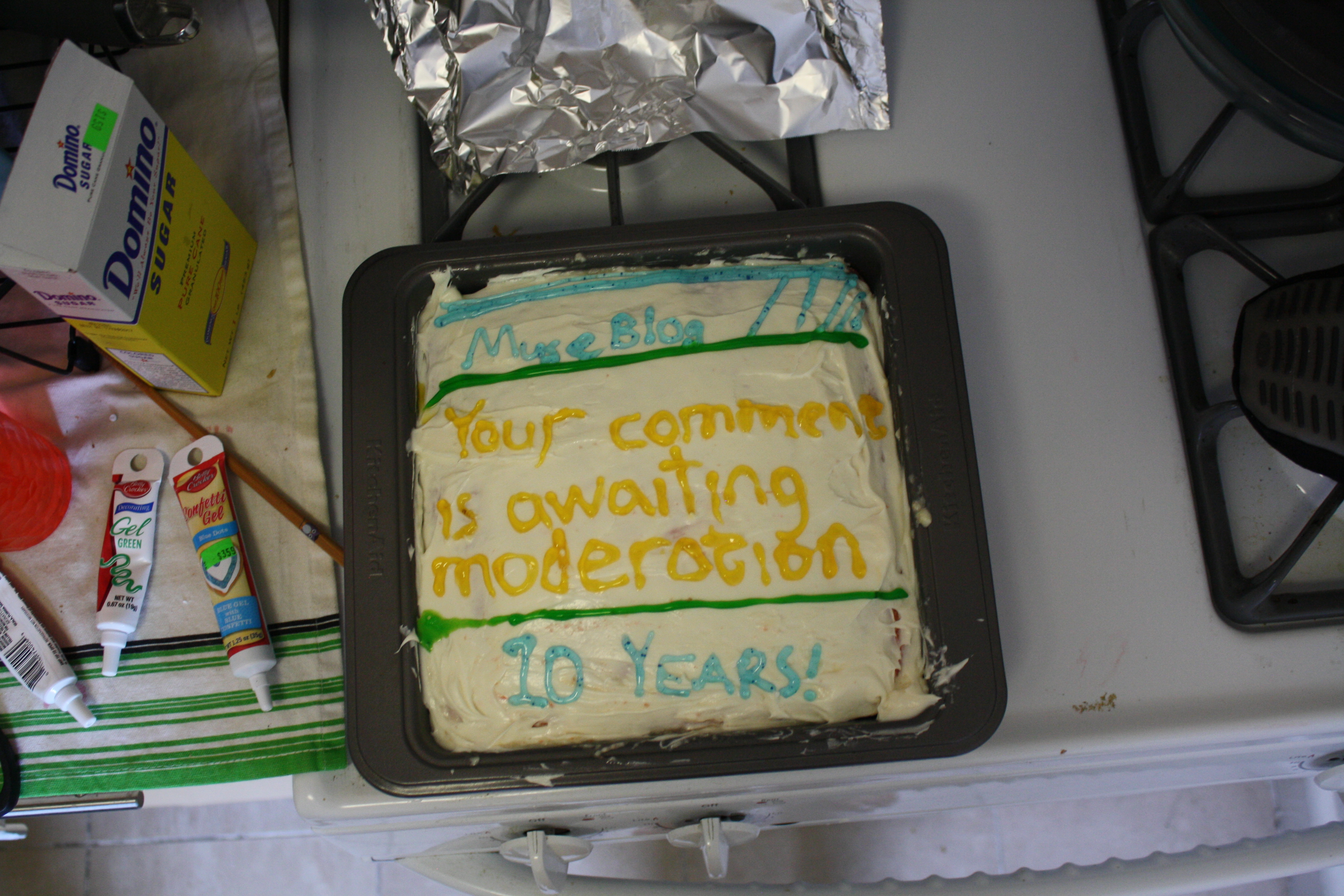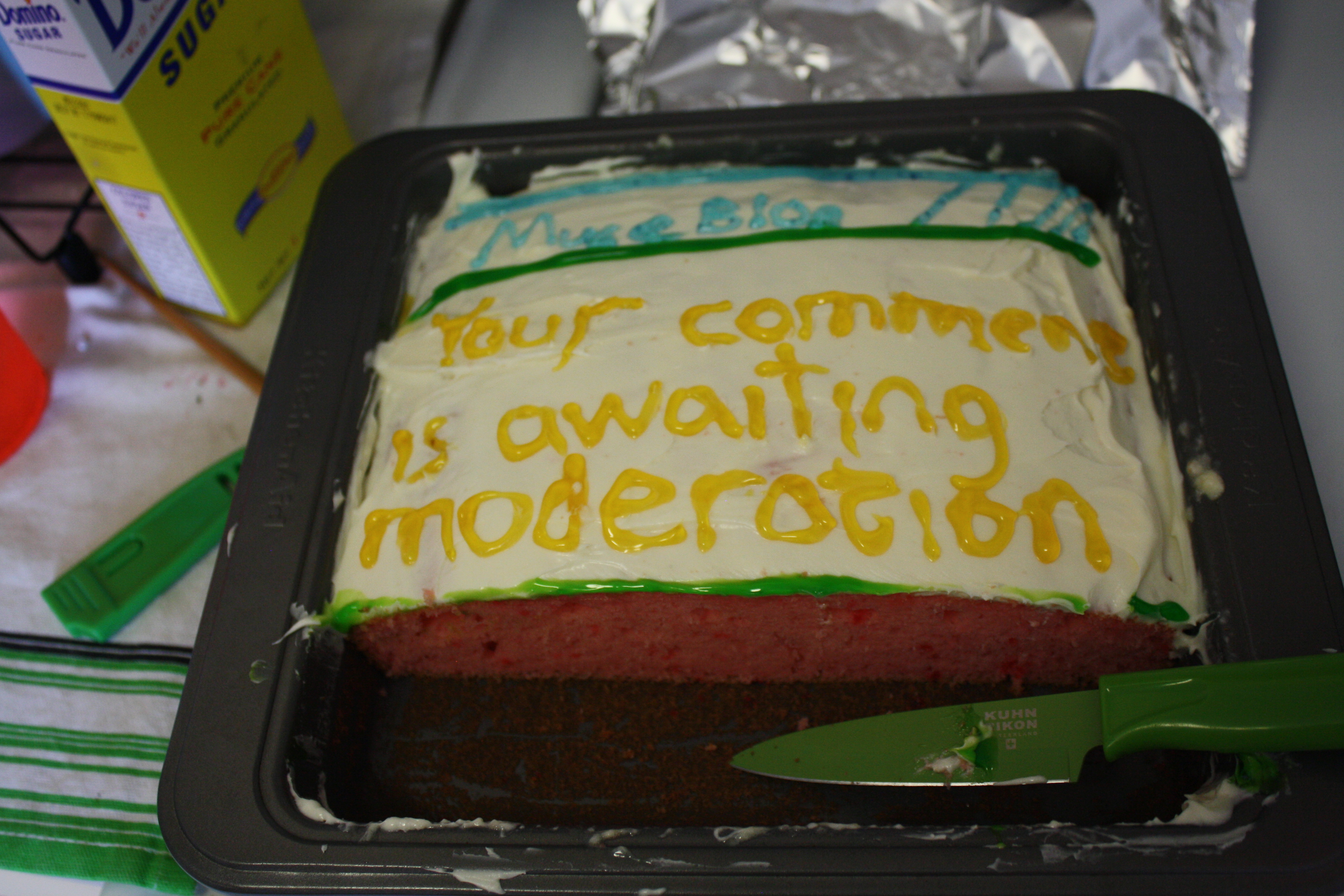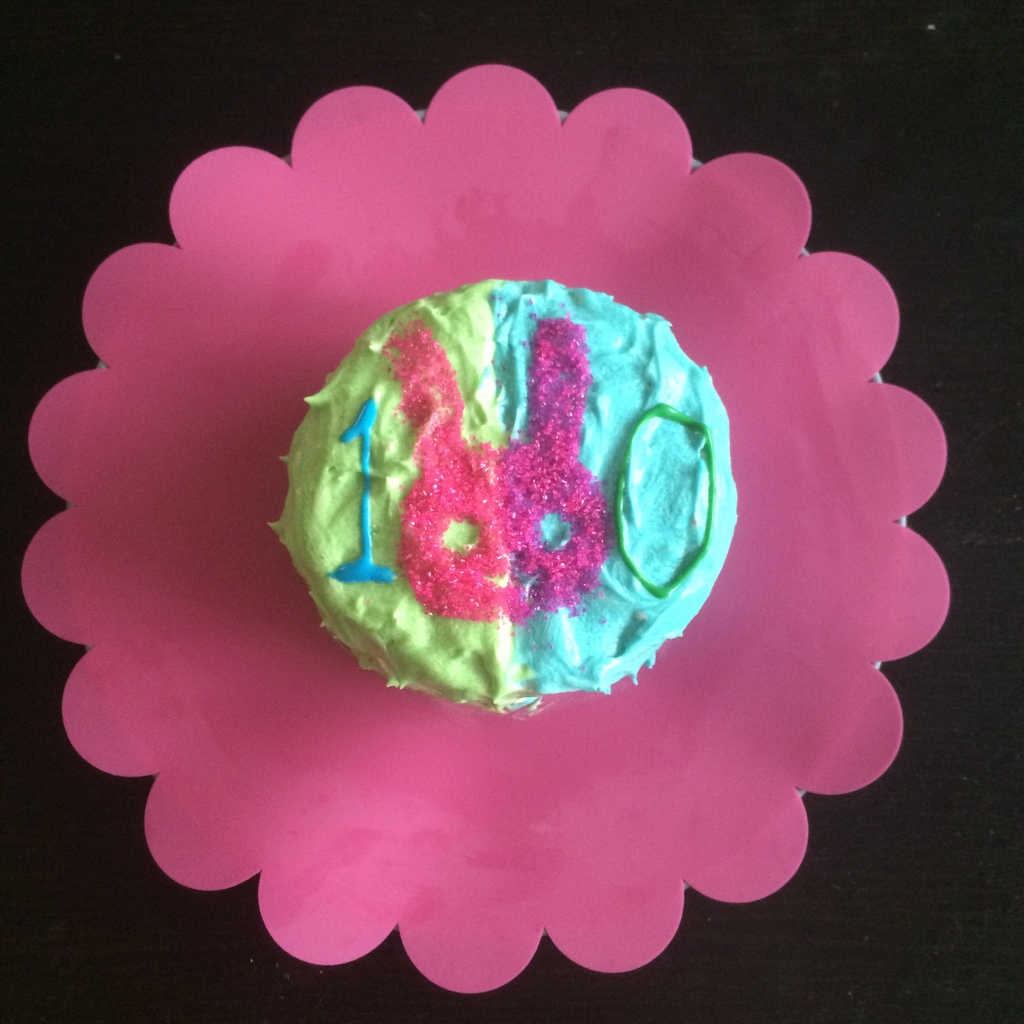 Jade also made cupcakes!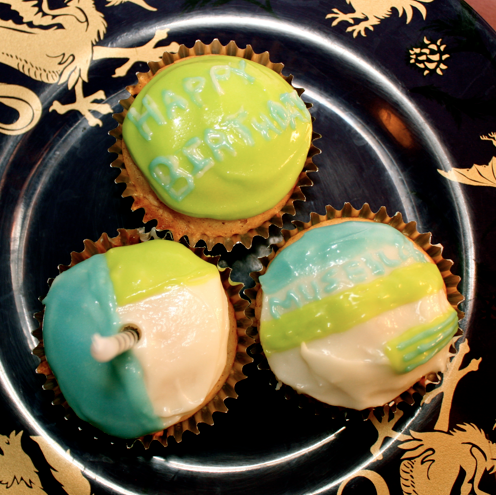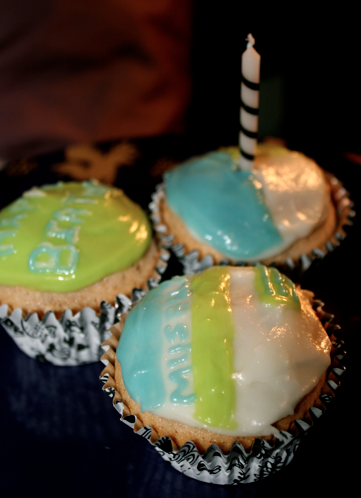 Dodecahedron:
When I was sixteen I was hospitalized for about two weeks because I was in a severe depression. I'm not sure how many of you remember this specifically happening, as it's hard for me to remember how much I discussed it at the time, though I'm sure its echoes have haunted me in ways that I've described here.
A couple weeks later, I received an unexpected package in the mail – a box full of chocolate, and books, and small trinkets, and kind notes from my friends from MuseBlog.
This ethos of taking care of each other is not unique to MuseBlog, I'm sure, but again and again I've seen us uphold it. I am so grateful to have these friends in my life.
Thank you.
-Dodec
Midnight Fiddler:
Between the ages of 9 and 17, I had about 2 people my age that I would consider friends that I knew in real life, so joining MuseBlog when I was 14 was one of the biggest events of my teenage years. From then until now, MB has been a place where I've made some of the most steady, solid friendships of my life, and where I've felt the most comfortable and most happy through some pretty tumultuous times. In addition, the fact that so many of my early posts are entirely cringeworthy I think speaks to how far you as a community have helped me to come, and I thank you all for bearing with me through it. Here's to many more years of friendship.
-Fern
Oxlin:
Museblog has been a wonderful home-on-the-internet for me since before the blog actually existed! (Aka: Gaboomba days.) While I have had many adventures with friends from MB (both online and off) I really appreciate being able to go to MBers for support. When I was in high school, MBers were there to listen to my worries about my daily life and, in the same conversation, discuss ideas and philosophy. When I was a sophomore in college, Penty was a new freshman at the same school. A month or two into freshman year, my roommate and I realized that we couldn't live together and stay friends. During the transition between living with my former roommate and living with a new roommate, Penty and some of her friends took me into their dorm rooms and provided a lot of emotional support. I am very grateful for all the memories I've got from this site and the wonderful people who inhabit it. Thank you GAPAs for creating and maintaining such a lovely and welcoming home on the internet!
-Oxlin
Jadestone:
Like it was for many of us, Museblog was my first real introduction to the internet, and I couldn't have asked for a better portal to this new world. Muse as a magazine shaped my ideas and how I thought about science and literature art; but Museblog shaped how I interact and understand people, friendship, and a whole host of ideas I would otherwise never have been exposed to. I joined the blog when I was in middle school; and continued posting all the way through high school and into college, and I honestly don't know if I would have made it that far without everyone I met through here to guide and encourage me along the way–including you, dearest GAPA(s). Having you four as mentors in my life was an incredible experience. I'll never forget all your encouragement when I was struggling through hard times, your words of wisdom about life and college applications, and your exuberant support of all our weird ideas. What other adults did I know who encouraged virtual pie-throwing as a means to resolve petty conflicts??? who else would have so enthusiastically embraced my sudden desire to become a giant space squid????????? Luckily, I'll never have to ponder about what dark timeline that could have been (I am sorry for all the angsty poetry I wrote you had to read along the way, though).
I know I don't post daily anymore, esspecially now that I spend 70% of my time internetless in the middle of a desert (literally), but I do read every comment left here still. I've known some of you Musers for 8 or 9 years now. I know I'll be in contact with at least some of you for that many again. It's been flamablamablous. Here's to another 10.
Julia:
Muse entered my life when I was eight years old, and I'm 23 now. I haven't subscribed to the magazine in years and my posts on the blog are now highly infrequent at best. But nearly every day I get to talk to some of my oldest friends. I'm grateful that MuseBlog was there for me as a young adolescent, as a sounding board, diary, and place to learn. But I'm most thankful for the people that it has brought into my life. I've placed so much trust in this place and all of you. Thank you.
Kagcomix:
I feel so fortunate to have been given a relatively safe & kind place to grow up on the internet. Thanks, GAPAs for putting in the time & care to moderate & maintain the blog. I couldn't have asked for a better forum to spend my young teen days on.
Ebeth:
Last year when we were discussing the state of the blog, I described my MuseBlog experience as having a benevolent Tom Riddle's diary. People I meet today think I'm a very open person, which surprises me because I've never been good at getting close to people and for a long time I spent a lot of energy trying to hide my feelings. MuseBlog was the first place I felt really comfortable expressing myself and being vulnerable and that experience led to a drastic improvement in my irl outlook and social life. The friends I made on the blog have been some of the closest and most consistent friends of my entire life (hard to believe I've known some of you for almost 10 years!) and although I tend to fade in and out of communication, I've never been worried about starting up a conversation again with someone from MB. Thanks GAPAs for creating an environment where weird middle school kids can feel comfortable, and thanks fellow musers for always being around when I need you (whether for moral support, advice, pies to the face, or solidarity against the oncoming HPB menace). Keep being your flamablamablous selves!
Lizzie:
Being a part of this blog has given me some of my longest-lasting friendships. In my middle and high school days, it gave me hope that there were people out there with the same interests as me and minds that worked the same way. In college, I got to meet some of them and those trips are some of my favorite memories. It's hard to believe it's been (over) 10 years (for me, with the gaboomba), and I hope it will last another ten!
POSOC:
It's difficult to overstate the influence that MB has had on my life. I am more open-minded, compassionate, and confident than I otherwise would have been. I've made many dear friends here, in spite of my long and irregular absences, and they've been there for me when other comforts in my life were few. The blog gave me a creative outlet that helped me to develop my voice as a writer. I'm proud to be a part of the community that was built here, and I am thankful to everyone else who contributed to it, particularly our wonderful Administrators.
Vendaval:
I made some new friends recently, which got me thinking about friendships that last. I'm lucky enough to have quite a few good ones. They're not all active- some friends are physically distant, others are preoccupied for the next month or two, but they're all strong friendships. People who I'm not only glad to know, but glad to have been influenced by. People who aren't just connected by circumstance or happenstance, but mutual attraction. I was delighted to realize that all of my good friends are explorers. I'm so happy Museblog has put me in contact with the most wonderful people, people of arts and sciences, whose orbits are so varied that they're overlapping at times only because we're all passionate about exploring. And I'm so grateful to the GAPAs for giving us all a place to grow. I'm incalculably a better person because the blog gave me a place to learn to write and think when I had nowhere else to speak. Professors and peers of our Republic of Letters, thank you for making Muse Academy my proudest alma mater.
Choklit Orange:
Museblog found me in the deep, dark days of middle school and stopped me from feeling alone. I'm lucky beyond words to have met so many warmhearted role models, and to have been pushed to think and do more! Thank you to all of you for sticking with us, and thank you especially to the GAPAs for putting so much work into creating this community. You are true adulting goals. <3
MontgomeryGurl:
Buckle up this is going to get emotional:
Ten years ago, I discovered the Internet and MuseBlog almost simultaneously. I was fourteen, homeschooled, and living in a conservative Christian bubble in the south. More importantly, though I didn't realize it at the time, I was lonely and hungry for acceptance. I considered myself too strange to be friends with most of the people I met in the town I had recently moved to. When I discovered MuseBlog, I found a lifeline, and suddenly the doors of my contained world flung open. I chatted with people who lived countries away, people who believed many different things about politics and religion, and (maybe most surprising) people who liked the same things as me and seemed to think I was cool. I vividly remember posting a comment I was sure was hilarious, and then refreshing the page on my interminably slow dial-up connection until the comment was approved, then checking back periodically throughout the day to see if someone had replied. I had found my tribe, and I found myself with a place to be a version of myself I hadn't known existed. I debated politics and religion, interrogating my own beliefs in a way I had never done, and I found that sometimes I was wrong and the sky did not fall. And, eventually, I found myself growing more confident in my interactions with my peers I saw in "real life" as I learned that my opinion and personality could be valued by people.
We found creative ways to exchange contact information (sorry admins), and for all of high school many of my closest friends were people I had never met in person. I was able to express sides of myself I did not know how to show to my family, homeschool group, and youth group. MuseBloggers were Instant Messaging me when I first watched Buffy and Firefly, they ranted about individualism alongside me during my Ayn Rand phase (yikes, I'm sorry guys), they recommended beautiful books, and they moved with me when I left Louisiana for Tennessee and a year later left for college. Even before I met a few friends from this blog in person, I knew my "internet friends" we're real friends, people who stuck by me through many transitions and struggles even when their presence was limited to text in an AIM window. Unexpectedly, the relationships I formed here became some of the most consistent presences in my life.
I've never been able to fully explain this piece of my life to people I've known. I can't fully explain how, for many years, my life expanded with every AIM window popping up on my computer and every comment posted on one of these threads. I can't explain how much of a gift this place was to me, how MuseBlog and the friendships I formed here were a saving grace in my complicated high school career. I am still a Christian and a moderate proponent of homeschooling, but more and more I have seen how stifling that kind of environment can be, and I realize how difficult it often was for me to find my place in the world. I cannot imagine who I would have been during high school without MuseBlog as a counter balance to the rest of my life. Sometimes I try to trace the threads that have made me who I am, and I honestly believe that a huge factor enabling me to become a confident and well-adjusted adult was my experience on this forum. You all expanded my horizons while accepting me, and in doing so gave me a space to become myself. I owe this blog so, so much. Thank you.
—
Thank you, GAPAs, for everything you have done for us. Here's to (at least) 10 more years!
(This thread is intended to be a space for everyone to share stories and kind words. Please, add yours!)
---