Random Thread: August 2015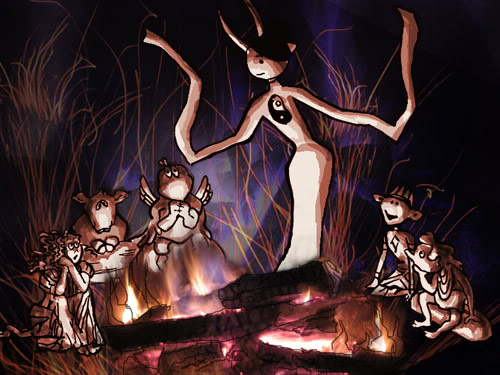 To mark MuseBlog's 10th anniversary, we'd like to celebrate the kaleidoscopic variety of stories that we've told ourselves and one another here: RRRs, RPGs, SSSSs, and other projects too numerous too mention.
Well, not too numerous, we hope, because we'd like you to help us track them down and list them below. Yes, they're juvenilia; of course, you'd probably write or improvise them differently today. But a lot of them are simply amazing, and it's high time someone compiled a comprehensive index. And it not we, who?
Users' Manual: Obey The Rules. Consult The Guide. Have fun!

Please add links to the MuseBlog Cycle below:
Pie Wars
Like them or not, they are our Iliad. In roughly chronological order:
– Unending Pie War: https://musefanpage.com/blog/?p=252
– Pie Wars, Part 4 [the "Great Pie War"]: https://musefanpage.com/blog/?p=352
– Pie Wars, Part 5 [the "Great Pie War," continued]: https://musefanpage.com/blog/?p=374
– New GAPAs on Board / Pie War: https://musefanpage.com/blog/?p=505
– Classic Pie War, Part 1: https://musefanpage.com/blog/?p=1072
– Classic Pie War, Part 2: https://musefanpage.com/blog/?p=1098
– No, This Is the Pie War, 2007.2, Part 1: https://musefanpage.com/blog/?p=989
– No, This Is the Pie War, 2007.2, Part 2: https://musefanpage.com/blog/?p=1019
– No, This Is the Pie War, 2007.2, Part 3: https://musefanpage.com/blog/?p=1067
– No, This Is the Pie War, 2007.2, Part 4: https://musefanpage.com/blog/?p=1125
– No, This Is the Pie War, 2008, Part 1: https://musefanpage.com/blog/?p=1194
(That one was so violent that the GAPAs intervened to stop it, imposing peace.)
– The Peace of Zemtee, Part 1: https://musefanpage.com/blog/?p=1127
– The Peace of Zemtee, Part 2: https://musefanpage.com/blog/?p=1206
The Chronicles of Museica
Prequel: After the devastation of the Great Pie War, the survivors labored to rebuild civilization. Then the saga continued, in 10 parts:
– 1: https://musefanpage.com/blog/?p=442
– 2: https://musefanpage.com/blog/?p=473
– 3: https://musefanpage.com/blog/?p=558
– 4: https://musefanpage.com/blog/?p=739
– 5: https://musefanpage.com/blog/?p=917
– 6: https://musefanpage.com/blog/?p=1054
– 7: https://musefanpage.com/blog/?p=1299
– 8: https://musefanpage.com/blog/?p=1401
– 9: https://musefanpage.com/blog/?p=1469
– 10: https://musefanpage.com/blog/?p=4148
Ships' Logs: Beyond Museica
– Part 1: https://musefanpage.com/blog/?p=446
– Part 2: https://musefanpage.com/blog/?p=481
– Part 3: https://musefanpage.com/blog/?p=551
– Part 4: https://musefanpage.com/blog/?p=601
– Part 5: https://musefanpage.com/blog/?p=628
– Part 6: https://musefanpage.com/blog/?p=736
– Part 7: https://musefanpage.com/blog/?p=865
– Part 8: https://musefanpage.com/blog/?p=977
– Part 9: https://musefanpage.com/blog/?p=1066
– Part 10: https://musefanpage.com/blog/?p=1131
– Part 11: https://musefanpage.com/blog/?p=1259
– Part 12: https://musefanpage.com/blog/?p=1385
– Part 13: https://musefanpage.com/blog/?p=1555
– Part 14: https://musefanpage.com/blog/?p=6219
Stupid Senseless Smiley Stories
– 2006.1: https://musefanpage.com/blog/?p=183
– 2006.2: https://musefanpage.com/blog/?p=525
– 2007.1: https://musefanpage.com/blog/?p=633
– 2007.2: https://musefanpage.com/blog/?p=782
– 2007.3: https://musefanpage.com/blog/?p=929
– 2007.4: https://musefanpage.com/blog/?p=1022
– Round-Robin Smileys, Part 1 (November 2007): https://musefanpage.com/blog/?p=1104
– 2008.1: https://musefanpage.com/blog/?p=1179
– 2008.2: https://musefanpage.com/blog/?p=1370
– 2008.3: https://musefanpage.com/blog/?p=1461
– Round-Robin Smileys, Part 2 (September 2008): https://musefanpage.com/blog/?p=1480
– 2009: https://musefanpage.com/blog/?p=3634
– 2010: https://musefanpage.com/blog/?p=6391
– 2011: https://musefanpage.com/blog/?p=8293
– 2012: https://musefanpage.com/blog/?p=11795
ibcf's list of favorite SSSSs: https://musefanpage.com/blog/?p=11795#comment-492050
NaNoWriMo novels:
– Ebeth's novel, 2006 (yes, the whole thing): https://musefanpage.com/blog/?p=593
RRR: Fractured Fairy Tale:
– Part 1: https://musefanpage.com/blog/?p=799#comment-103096
– Part 2: https://musefanpage.com/blog/?p=962
RRR: Worst. Story. Ever. (2011-2013)
https://musefanpage.com/blog/?p=10375
RRR: The Etheterre Chronicles (2006-2010)
– Part 1: https://musefanpage.com/blog/?p=528
– Part 2: https://musefanpage.com/blog/?p=652
– Part 3: https://musefanpage.com/blog/?p=1003
– Part 4: https://musefanpage.com/blog/?p=1167
– Part 5: https://musefanpage.com/blog/?p=3947
RRR: The Sea Roc (a.k.a. Captain Pye & Co.) (2007-2010)
– Part 1: https://musefanpage.com/blog/?p=766
– Part 2: https://musefanpage.com/blog/?p=837
– Part 3: https://musefanpage.com/blog/?p=1013
– Part 4: https://musefanpage.com/blog/?p=1213
– Part 5: https://musefanpage.com/blog/?p=1412
– Part 6: https://musefanpage.com/blog/?p=3724
Robert's Muse/Harry Potter Crossover Fanfiction
– Part 1 (the Muses rout the Minister of Magic): https://musefanpage.com/blog/?p=52
– Part 2 (Feather has a tête à tête with Fleur Delacour): https://musefanpage.com/blog/?p=92
– Part 3 (Mimi helps Draco Malfoy): https://musefanpage.com/blog/?p=4679
(Visited 42 times, 1 visits today)
---